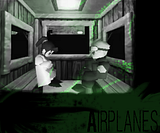 DOWNLOAD HERE!

1. Where Is The Love? - Celine Dion

If ever a boy,
Stood on the moon
All the heavens would call them angels 'round
Stop the tears from troubled skies...
From
Falling... falling... falling

If ever the river could,
Whisper your name,
Would the choices you made still... be the same?
Like a flower that dies from angry rain
... Why do we hurt
Ourselves?

Where is the love...
That lets the sunlight in to start again?
The love... that sees no colour lines
Life begins, with love,
So spread your wings and fly,
Guide your spirit safe and sheltered,
A thousand dreams that we can still believe...

A foreshadowing of Cid's journey, including Aeris' death and his trip to space. Shera wonders if things could have been different and how they are now.

2. Lifeline - Angels & Airwaves,

If you hear a distant sound,
And some footsteps by your side.
When the world comes crashing down.
I will find you if you hide.

If you wish it, wish it now.
If you wish it, wish it loud.
If you want it, say it now.
If you want it, say it loud.

We all make mistakes.
Here's your Lifeline.

Thoughts during Meteors attack on the planet, and how Cid and Shera wish they could be by each others side physically, and not just mentally. Also, it is a reflection of their past mistakes, and how they will treat life if they live through 'the end of the world'.

3. Dance With The Devil - Breaking

Here I stand, helpless and left for dead.

Close your eyes, so many days go by.
Easy to find what's wrong, harder to find what's right.

I believe in you, I can show you that I can see right through all your empty lies.

I won't stay long, in this world so wrong.

The battle with Sephiroth arrives all too soon, and all C/S can think about is a promise of Cid's return? I suppose that all depends on what ever happened when Cloud told Cid to find his reason to fight.

4. Oh Star - Paramore

Wait, don't go away.
Just not yet.
Cause I thought,
I had it.
But I forget.

And I won't let you fall away,
From me.
You will never fade.
And I won't let you fall away.
From me.
You will never fade away from me.

And now I let my dreams consume me,
And tell me what to think.
But hold on,
Hold on.
What am I dreaming?

Cid remembers how Shera didn't want him to leave her before the final battle.

5. Think Twice - Celine Dion

Don't think I can't feel that there's something wrong
You've been the sweetest part of my life so long
I look in your eyes, there's a distant light
And you and I know there'll be a storm tonight
This is getting serious
Are you thinking 'bout you or us

Don't say what you're about to say
Look back before you leave my life
Be sure before you close that door
Before you roll those dice
Baby think twice

Baby think twice for the sake of our love, for the memory
For the fire and the faith that was you and me
Baby I know it ain't easy when your soul cries out for higher ground
'Coz when you're halfway up, you're always halfway down
But baby this is serious
Are you thinking 'bout you or us

Shera begs Cid not to go, both the first time on the Tiny Bronco and the second time before the final battle.

6. Light On - David Cook

Try to leave a light on when I'm gone
Something I rely on to get home
One I can feel at night
A naked light, a fire to keep me warm
Try to leave a light on when I'm gone
Even in the daylight, shine on
And when it's late at night you can look inside
You won't feel so alone

Alright, to be honest this song just makes me think about Cid lighting up a cigarette, and thinking about Shera being lonely at home when he does so. =')

7. Airplanes - B.o.B. Featuring Paramore's Haley Williams

Can we pretend that airplanes
In the night sky
Are like shooting stars
I could really use a wish right now (wish right now, wish right now)
Can we pretend that airplanes
In the night sky
Are like shooting stars
I could really use a wish right now (wish right now, wish right now)

The epitome of Cid/Shera adorableness and their relationship. Planes and space in the same song? It's gotta be Cid/Shera!

8. Set The Fire To The Third Bar -Snow Patrol Featuring Martha Wainwright

I find the map and draw a straight line
Over rivers, farms, and state lines
The distance from 'A' to where you'd be
It's only finger-lengths Jobby that I see
I touch the place where I'd find your face
My finger in creases of distant dark places

Cid and Shera's feelings of longing to see each other again.

9. Far Away - Nickelback

This time, This place
Misused, Mistakes
Too long, Too late
Who was I to make you wait
Just one chance
Just one breath
Just in case there's just one left
'Cause you know,
you know, you know

That I love you
I have loved you all along
And I miss you
Been far away for far too long
I keep dreaming you'll be with me
and you'll never go
Stop breathing if
I don't see you anymore

Cid reflects on his past mistakes with Shera, including being gone for so long, and he goes to seek forgiveness.

10. Hard To Say I'm Sorry - Chicago

Hold me now.
It's hard for me to say I'm sorry.
I just want you to stay.
After all that we've been through.
I will make it up to you, I promise you. ( baby)
And after all that's been said and done.
You're just the part of me I can't let go.

Cid's apology... for everything.

11. Glittering Clouds (Locusts) - Imogen Heap

I'm not always like this
It's something, i become
A terrible weakness
In my nature, in my blood
Save me, oh save me, save me from myself
Before i hurt somebody else again

Domino motion jump starts when we touch
The blackout approaching
Here it comes now, wish me luck
It's all over, it's all over, it's all over in a flash
I can't remember,
What have I done now?

SPOILERS FOR CASE OF BARRET FROM HERE ON OUT!

This song is from an album called 'plague songs'. It reminded me of geostigma and how poor Shera got infected. These are her feelings on the disease.

12. Anthem Of The Angels - Breaking Benjamin

White walls surround us
No light will touch your face again
Rain taps the window
As we sleep among the dead

Days go on forever
But I have not left your side
We can chase the dark together
If you go then so will I

There is nothing left of you
I can see it in your eyes
Sing the anthem of the angels
And say the last goodbye

Cid watches Shera deteriorate from the Geostigma, and longs to find a cure.

13. Save You - Matthew Perryman Jones

I wanna rock-n-roll
I wanna give my soul
I'm wanting to belielve
I'm not too old
Don't want to make it up
Don't want to let you down
I want to fly away
But i'm stuck on the ground

So, help me decide
Help me to make up
Make up my mind
Wouldn't that save you
Wouldn't that save you
Wouldn't that save you

Cid begins the stages of grief and gets to bargaining... If he can change himself can he save Shera?

14. Stars In The Sky - Angels & Airwaves

True love - the stars in the sky illuminate below,
The light is the sign that love will guide you home.
The stars in the sky illuminate below,
If the world were to die, the light will guide you.

Aeris heals the world with Great Gospel, and the stars lead Cid back to the woman he loves. Both remember the first time he came home, and they prayed they would meet again if Meteor wiped out the human race.

15. The Power Of Love - Celine Dion

Lost is how I'm feeling lying in your arms
When the world outside's too
Much to take
That all ends when I'm with you

Even though there may be times
It seems I'm far away
Never wonder where I am
'Cause I am always by your side

We're heading for something
Somewhere I've never been
Sometimes I am frightened
But I'm ready to learn
Of the power of love


In the end, love conquers all. Cid and Shera get reunited for good, aside from Vincent's upcoming journey...
Current Location:

my [basement] room

Current Mood:

creative

Current Music:

save you - matthew perryman jones